a.N.C.S Network
autoNoiseCreationStation is a modular collection of custom built DAW controllers networked together interactively allowing the quick and simple composition of a variety EDM music genres.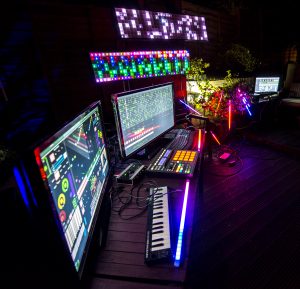 Focused around software development for two 32″ touchscreen controllers – aNCS uses efficient and unique methods of audio control and composition, acting as a studio assistant and a live performance tool simultaneously.
Find out more here:
a.N.C,S online
autoAV have started working on an experimental chat based DAW controller.
Designed for the online interactive control of music and lights for upto 128 people.
Join our Twitch  and find out more here: autoAV Online!
Experimental DAW Tools
We love developing custom touch screen DAW controllers.
Our developments include:
16 channel, 64 step probabilistic sequencer with autopilot functions.
32 step breakbeat generator using mathematical breakpoint algebra.
autoTheory Sequencer – Chord progressions, Bass lines and Melodies made easy.
VSTi controllers including Monark, Lazerbass, Massive, FM8 and much more.
Lots of experimental controllers for custom DAW tools..
see more here.
Infrared VSTi controllers
We have built a small range of infrared controllers for VSTi control. 

Using a.N.C.S auto scaling function, IR can be converted into OSC / MIDI and used to control sustained instruments and/or control FX, arpeggiations.. practically anything can be controlled with easily calibrated settings.
I have recently been working with the STM32f development platform with more accurate sensoring and simple gesture recognition, more devlopments to come, you can keep up with my work here
12v Battery Powered Studio
My latest project is with a series of Low Voltage Computers that are capable of running Windows 10, with 8gb Ram, on less than 2A whilst running from a long life leisure battery for small outdoor performances / recording sessions.
The current setup can power Win10 with Maschine easily running 32 light VSTi's all with simple internal FX compression and EQ. The hardware includes a 15″ touchscreen monitor, Maschine, 2x small MIDI keyboards and a customized PC flight joystick controller alongside some extra 10k pots, for easy access to FX. In total, we consume 3.15a of power from our 115Ah battery, an amount small enough to charge from a solar panel.
More news to come soon.
o.I.L Network
Omnipresent.Interactive.Lighting.

Budget LED Networking for indoor and outdoor events.
LED Walls, Signs and Striplights connected wired or wirelessly.

Webpage under construction.
Low Voltage MicroComputing
    Familiar with a variety of micro computers (µC) that have a diverse range of applications,
we can determine the appropriate chip-set for your design specifications and can support you throughout the whole development process, from breakout PCB manufacture to enclosures and connectivity
Wiring Harnesses and Looms
One off prototype assemblies to low volume automotive harnesses, we provide high quality solutions to cater for a wide variety of markets and industries.
Find out more here.
Touchscreen Devices
Using our experience with Audio/Visual interactivity, autoAV can offer touch screen integration for many applications.
We have solutions for all basic platforms (Windows/Linux/Android4.4+). Furthermore, we are able to provide MCU programming and networking for home automation applications, or complete embedded development for industrial or commercial applications using STMicroelectronics chipsets.
Find out more here